In my opinion, in order to truly be a good director, you must have a strong understanding of all the jobs (or at least the most important jobs) of all the people working on the set for you. You need to understand the challenges that the Director of Photography, The Gaffer, The Sound Recordists, and even the Editor face. How can you respect these people and work with them collaboratively to make the film if you don't have a clue as to what it is that they do! further more how can they respect you, and even more importantly how can you communicate with them in the language and terminology that fits their particular job!
I once had a director say to me while I was DP on his film, " I want the effect of the camera focusing on one thing and then focusing on another" to which I thought "what?!?!" and then I realized he wanted a rack focus, But it was off putting to have it explained that way, But I digress. I myself took advantage of school and took a class in shooting, a classing in lighting and I sat in on the directing classes and participated as if I were getting a grade, though I wasn't. I asked questions no one else was asking, specifically about depth of field. Sadly I haven't taken classes in editing but I've demonstrated better editing skills than those who have taken classes and internships, because I understand that editing isn't about pushing buttons, its about making moment to moment connections based on emotions, style and continuity.
In any case basically what I'm saying is I've studied all the jobs of making a film to make myself a better director in the long run. Having met a few directors so far I've yet to work with any one who I truly consider to be a facilitator and not a dictator. I have little to no respect for anyone who calls them self a director and has never picked up a camera and gone out to try to shoot their own film, or sat down at an editing system to try and edit what they've shot. Doing this on a constant basis for myself has helped me develop "a sense of Montage" meaning that when I choose two or more angles for a scene I already have a strong idea of how those angles will cut together in post. This allows me to make much better decisions in the production process and to adapt better to the unexpected, to walk into a location that I haven't seen before and come up with all the angles I need to tell the story on the fly and still stick with my shot list if I need to/want to. I believe that shooting and editing your own film is like a Carpenter building his own house, its true craftsmanship, and until I have a multimillion dollar budget to direct a film then I swear by this.
Having said all this, I thought I would dedicate a blog to Directors that I know of that shoot their own films. Now I'm not talking about just one film, I'm talking about 2 or more films. So Without further ado here they are:
QUENTIN TARANTINO
I've heard Quentin himself say that on Inglorious Bastards he would operator the steadicam sometimes. He was Director of Photography of Death Proof and shot his segment of grind house.
MICHAEL BAY
Though he always goes uncredited Michael Bay often does a lot of the camera operating on most of his films; Transformers, Bad boys II, Pearl Harbor, The Rock. Its like they say, you want a job done right you do it yourself, and though people may think of him as "The Destroyer of Films" I say he makes great entertainment, I would be proud if I could say one day that I made a film as entertaining as Michael Bay even if the story is lack luster.
MARK NEVELDINE & BRIAN TAYLOR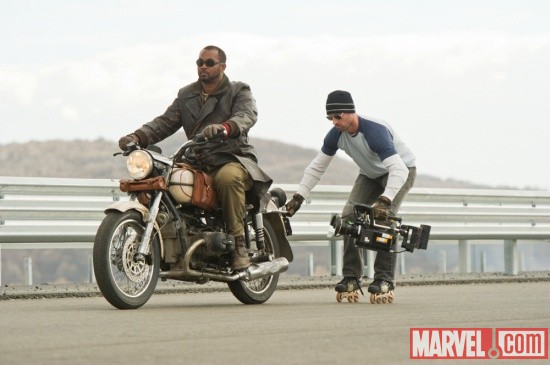 Although Crank, Gamer, and Ghost Raider: Spirit of Vengeance are fairly mediocre films, these two guys take serious risks and really push the limits with their work and operating the camera at the same time, I do hope to put the same into my work.
DOUG LIMAN
Doug will always be one of my favorite directors and biggest inspirations because I first got to know him when I was directing my first project and I was inspired by his perseverance, then a year later I actually got to meet him in person and tell him my story plus get his autograph. GO was absolute genius and so was Swingers. Go's Genius was particularly in the way it was edited, and I feel like Swingers really captured the time period in which it was made, that social setting and nightlife, (which I'm to young to know about lol) and paid a little tribute to Quentin Tarantino's "Reservoir Dogs" and Scorsese's "Good Fellas", Fair Game was an interesting film, but his cinematography in that one was a little too Handheld.
ROBERT RODRIGUEZ
Of course this guy is one of the pioneers, whether you consider him under or over rated, he's the god father of the DIY generation which I'm apart of. Thankfully I live in the digital Era, where cameras shoot on memory cards rather than film, because back when he made his accomplishment that brought him into Hollywood it was cumbersome to run around the arid desert with a film camera, but I'm grateful he did it because he proved it was possible, and he's always in the back of my mind when I pick up a camera. He Edits as well, so he's a true carpenter of film in my opinion. Direct it, shoot it, edit it, true craftsmanship.
STEVEN SODERBERGH
And here is the man who I think does it best; Of the 34 films he's directed he has shot 18 of them and edited 12. There is a certain style that he has that I love so much, simple yet deep, you can see it in the "Girlfriend Experience" which blew me away, and then he combined that with "Haywire" to knock me out again. I want very much to be like him BUT not to emulate him. I don't want to copy his style, I want to have my own style. Much like Doug Liman I hope to meet him one day and tell him what a big inspiration he is to me. One of the things that he does that I'm going to copy is his use of pseudonyms; even though he shoots and edits the films, he does not take credit for either of those jobs he goes by a fictitious name, and he is one of the few I know of that does this.
I've come up with my Director of Photography pseudonym as "Robert O'Neal" and my Editor pseudonym as "Andrea Ryan" The first being my middle names, and the last being a combination of my Mother's and my uncle's Middle names, they should look so cool on my next film, which I expect to be "Cassius".
Well that's my list of Directors that I know of who shoot their own films, I hope there are more, and I hope to add myself to that list. Thank you for reading, and until next time.